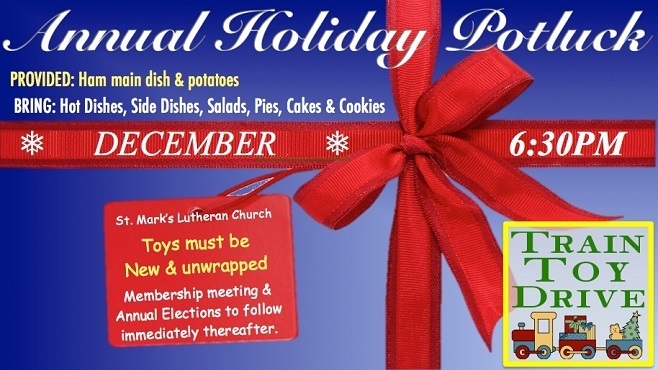 Please join us for The Annual PNWC Holiday Potluck on December
Potluck starts at 6:30pm, bring hot dishes, side dishes, salads, pies, cakes, cookies to share if you like.
Membership meeting and annual elections to follow thereafter.
Toy Trains For Tots Collection: &nbsp&nbsp Please bring your non-wrapped gift(s) for donation to the potluck. (The donated gifts will be wrapped by the collecting agency.)
Location: &nbsp
&nbsp&nbsp&nbsp&nbsp&nbsp St. Mark's Lutheran Church
&nbsp&nbsp&nbsp&nbsp&nbsp 5415 SE Powell Blvd.
&nbsp&nbsp&nbsp&nbsp&nbsp Portland, OR
Meetings of the membership are held every month, usually on the third Friday. Visitors are warmly welcomed! Typically, we first address the general business of the Chapter. This can be a great time to learn about not only what the PNWC is doing, but also what other rail-related groups are doing in the region and around the world. We then break for refreshments, and after the break we have the program. Monthly programs are always interesting and often feature guest speakers, multimedia presentations or videos selected from our extensive library.